Miss the second instalment of our Design Futures trend series at Decoration+Design Melbourne?  If so, here is a quick overview of the four subtopics of Alone Together.  You'll find more information on this season's concept in the previous post.
The four themes of Alone Together consider a selection of needs that we meet when we are alone and the spaces that we associate with them.  There are a number of others, equally important, but for this show I chose to focus on those that relate most clearly to the residential environment.
The bathroom was the most obvious space to start as it's a space where we're already comfortable being alone.  Through this space, we explored the need to pamper and relax in the theme, Retreat.
RETREAT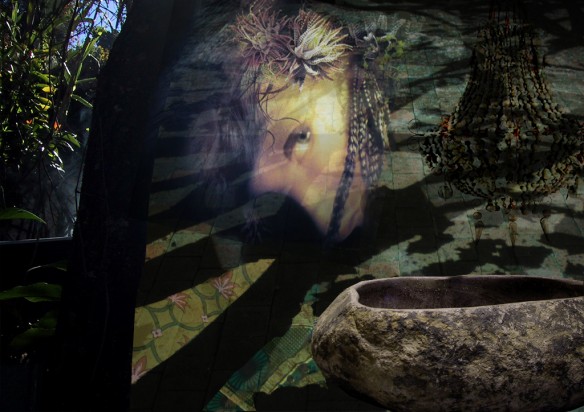 While we speak of finding some time to ourselves, we worry more about our phone battery going flat than we do our own energy levels.  When winding down involves a constant stream of posts, tweets, texts, chats and emails, we must readdress the balance between privacy and exposure.
It is time to resist the urge to constantly check on what we might be missing.
It will wait.
Unplug to liberate the mind and spirit.  Create a safe and secluded space where your virtual life is not invited to join you.  Find an escape from civilization, a place to sooth, pamper, indulge and restore.
Be aware of the physicality of yourself and the spaces you inhabit.
If we disconnect from our lives online, there is a chance we may miss something.  If we do not unplug from time to time, we are guaranteed to miss a lot more.
For the theme Produce, we turned to the classic shed as the perfect space to explore the peace found in productivity.
PRODUCE
The classic shed is a space that has always represented the importance and purpose of solitude and privacy.  The shed is a place to regain focus and composure, be it through toying with small jobs or being completely engaged in a project.  It is a space that encourages a mental state of flow, allowing new ideas to move freely and time to lose its hold.
However, the seduction of the practical is not confined to this industrial setting.  It could be gardening, knitting, practicing an instrument or any creative pursuit that is purposeful without being purely pragmatic.  Pottering or producing a masterpiece – the act of getting your hands dirty grounds you in the real world in all its beauty and imperfection.
A child's cubby house under a kitchen table reminded us how we can create imaginary worlds in Daydream.
There is a world of difference between privacy and isolation.  Sometimes the best time to be alone is when there are other people around.  We are comforted by the familiar noises of footsteps down the corridor, cooking in the kitchen, muffled conversations that don't require us to take part but let us know that we are still connected.
As children we created worlds within worlds.  In our imaginations we held the power to turn any space into a new future or fantasy – the security of the familiar allowing the imagining of the strange.
As adults, creating a personal space that allows creativity to emerge is just as crucial.  Objects that trigger our imagination, memory and abundance of stories can encourage us to be what we wanted to be when we grew up.
And finally, a low-lit sensory room of sound, smell and luxuriously tactile products let us explore the ideas behind the theme, Sensation.
SENSATION
"There are moments in one's existence where time and expanse are deeper, and the feeling of existence grows intensely" – Charles Baudelaire
Sometimes you need to be alone and in stillness to appreciate the subtlety of the senses.
To have the lack of distraction that allows the awareness of faint smells, complex sounds, changes of colour, gentle breezes and refined tastes.
The desire for a heightened experience of our surroundings is inspiring designers to create products that make us conscious of change and contrast.
Through design we may enhance our awareness of our physical environment and seduce our senses.
A final sincere thank you to all of our sponsors and participants and to the organisers at Decoration+Design. Stay tuned for some sneak peaks into the theme for our next installation of Design Futures at Decoration+Design Sydney 2012!
*feel free to contact me for any info on the products in the exhibit photos or concept images